Receptivity
The farm consists of a house ("Vinsantaia" divided into five apartments of various sizes, available all year round, with private entrance and garden, furnished with antique and period furniture, provided with washing-machine, dish-washer, equipped kitchen, telephone, television (satellite TV for several), free internet wifi, heating with thermostat and separate meter of consumption.
Casa Vinsantaia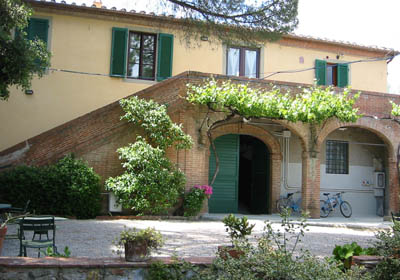 This house is part of the Villa Guardatoia, which is a historically listed building. The name originates from a special room on the second floor, where the white grapes get dried before producing the Vin Santo wine. Apart from the Vinsantaia there are the apartment Geranio and the one- room flat "il Coppo": this part of the house was once the old residence of the factor of the farm who lived here until the '70s.
On the ground-floor you'll find the cantina (wine-cellar) with the farm-shop for the purchase of our produces and the coppaia, where the olive oil is still kept in antique earthenware jars called  "coppi". In front of the cellar there is the garden with tables, chairs and barbecue where you can have a picnic or an aperitif before dinner.
Casa Natalino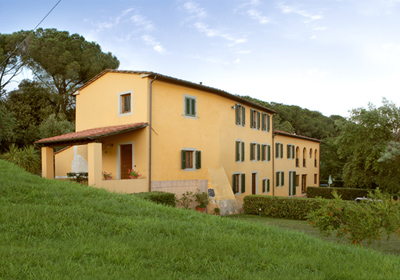 Antique farm-house situated above the swimming-pool and divided into three apartments. Its name is due to the farmer who lived here until the '70s with his family. He cultivated in sharecropping the farm around the house. The right part of the building was the old house, in the middle there were the stables and other premises used for the breeding of poultry, while on the left, where now is situated the apartment Margherita, was the old barn. The space in front of the house, that was unique, has now been divided into three parts by some bushes, and equipped with tables, chairs and umbrellas: this provides greater privacy to our guests that can enjoy dining outside by candlelight.